WEB/DIGITAL/INTERACTIVE/INSTALLATION
ABBOTT
ABBOTT HEALTH & FITNESS EXPO EXPERIENCE
Some moments are so full of life, you have to slow them down to truly capture it all. So at the Abbott Health & Fitness Expo, home of Chicago Marathon pre-race packet pick-up, we invited participants and supporters to step into our slow-motion capture video booths and celebrate "Life. To the Fullest."
At the London Marathon Expo today, Dick Beardsley and Inge Simonsen reenact their 1981 #handinhand #LondonMarathon win #lifetothefullest

Posted by Abbott on Wednesday, April 22, 2015
ABBOTT.COM
A new, more consumer-friendly corporate website for Abbott.
GOOGLE
MESSAGES OF HOPE
"Messages of Hope" was a spot created to support MessagesForJapan.com, powered by Google Translate, in the aftermath of the 2011 earthquake and tsunami.
SINGHA BEER
SINGHA TRANSPORTRAITS
The Singha TransPortraits website allowed users to take a virtual tour of art and nightlife worldwide. Here, visitors could RSVP to our live art events and view photos, video & art from events worldwide.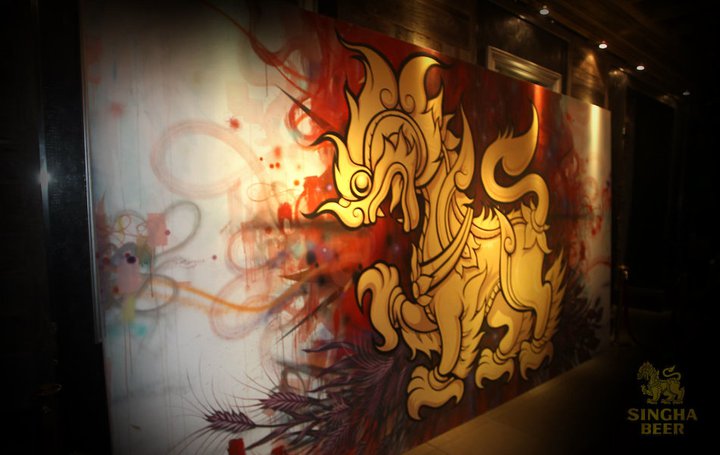 SINGHA BREWMASTERPIECE
The Singha BrewMasterpiece Facebook app invited users to view Singha TransPortraits videos and tag their friends' facebook walls with inspired by the video, thus passing along both the video and the experience.
NOKIA
NOKIA SHARE-AOKE
Nokia Share-aoke invited users to sing their favorite holiday carol and share the video with friends. Friends are then invited to add thier own voice and video to the song, creating a full chorus of friends, family and loved ones singing together.
REYKA VODKA
NORTHERN NIGHTS
For this Icelandic vodka, we brought a night under the northern lights to consumers everywhere through projection mapping events. We also created a galaxy gallery of Reyka Nights online and a chance to win a house in Iceland.
A BIRD IN HAND PROJECT
A website and app created to help raise funds for the Gulf Coast after the BP Oil Spill. Users were invited to digitally "clean" an animal on their cell phone by swiping the oil away.
JEFF COOPER DESIGNS
JEFFCOOPERDESIGNS.COM
Wedding and engagement jewelry website with simple, elegant copy to match.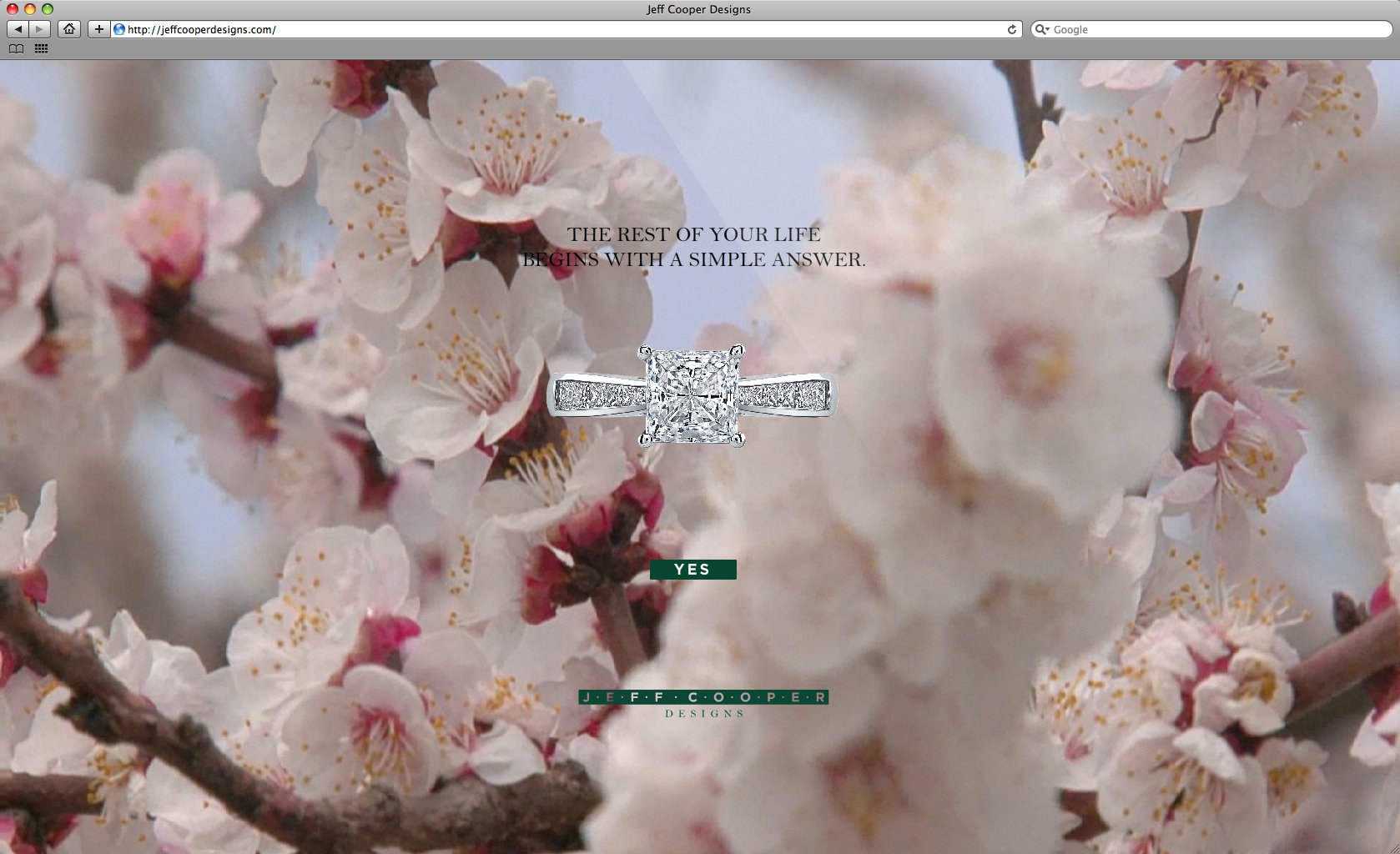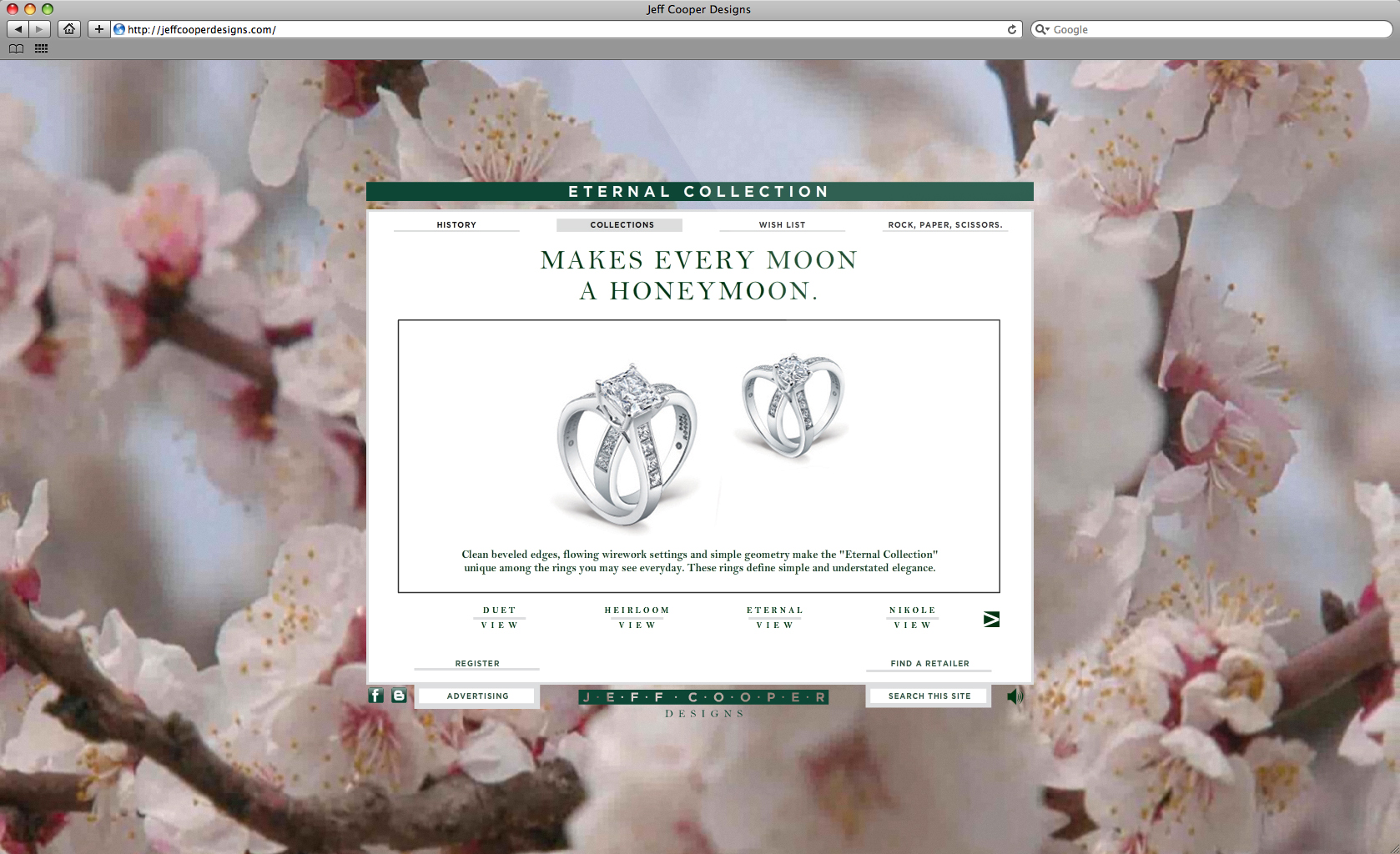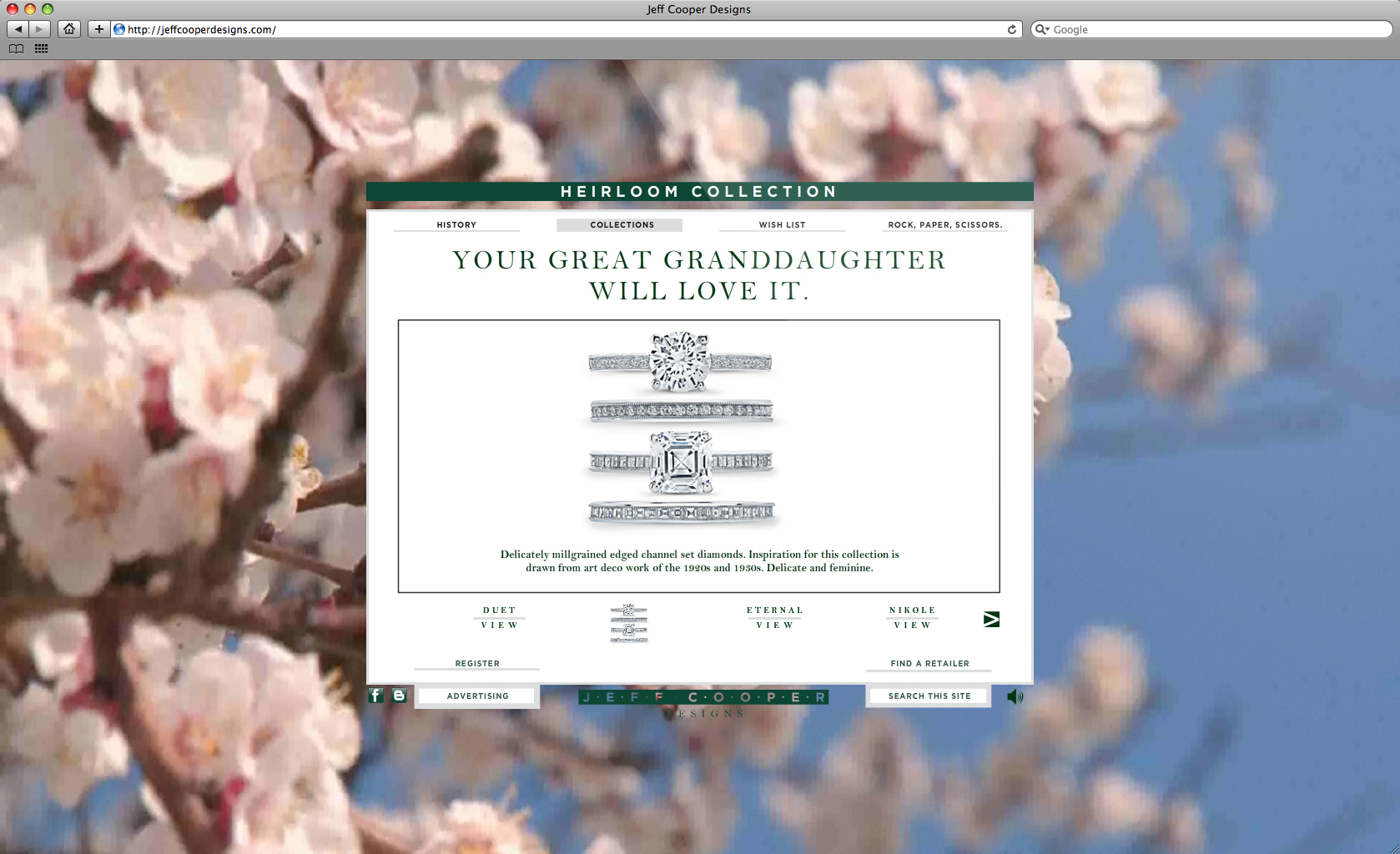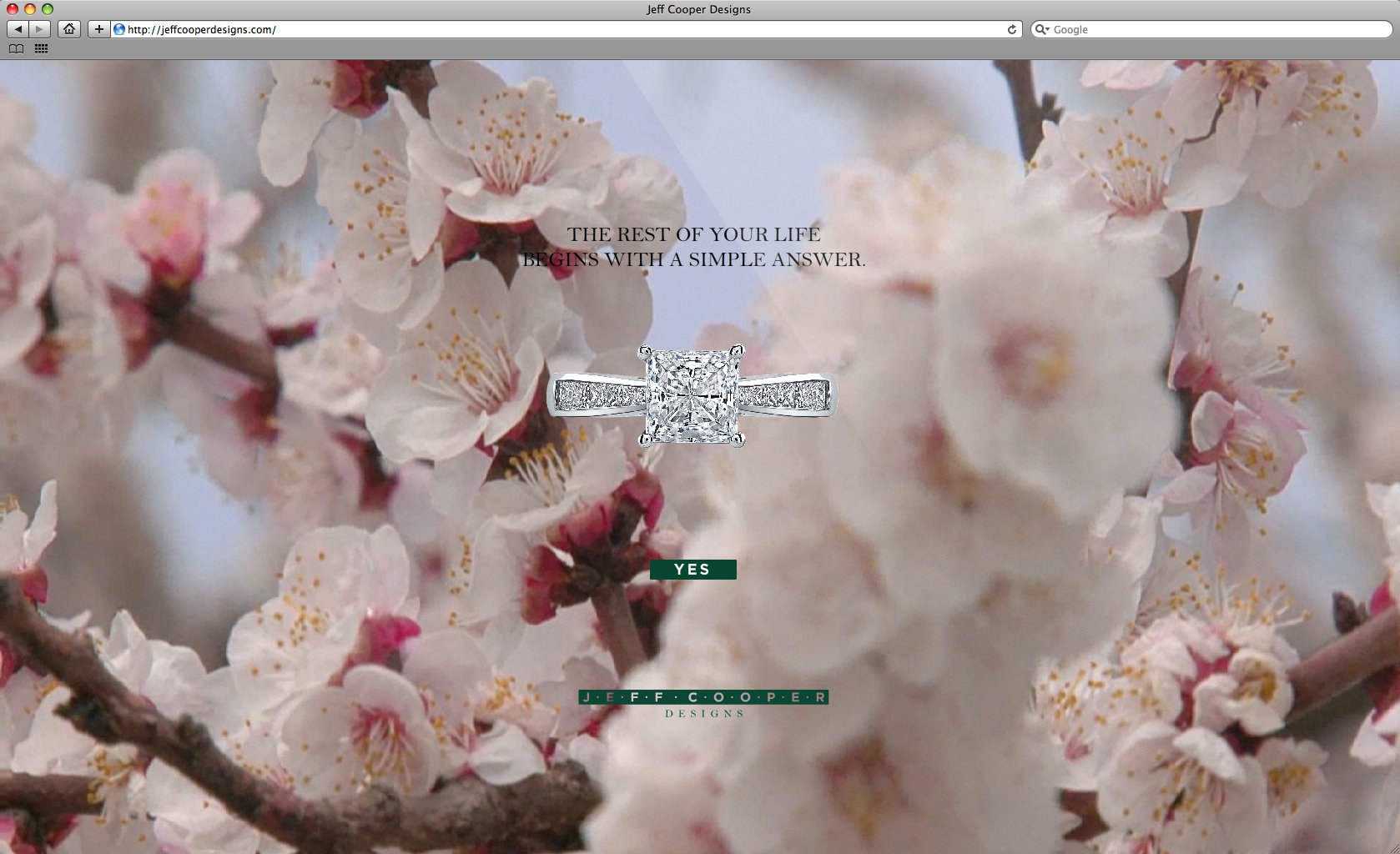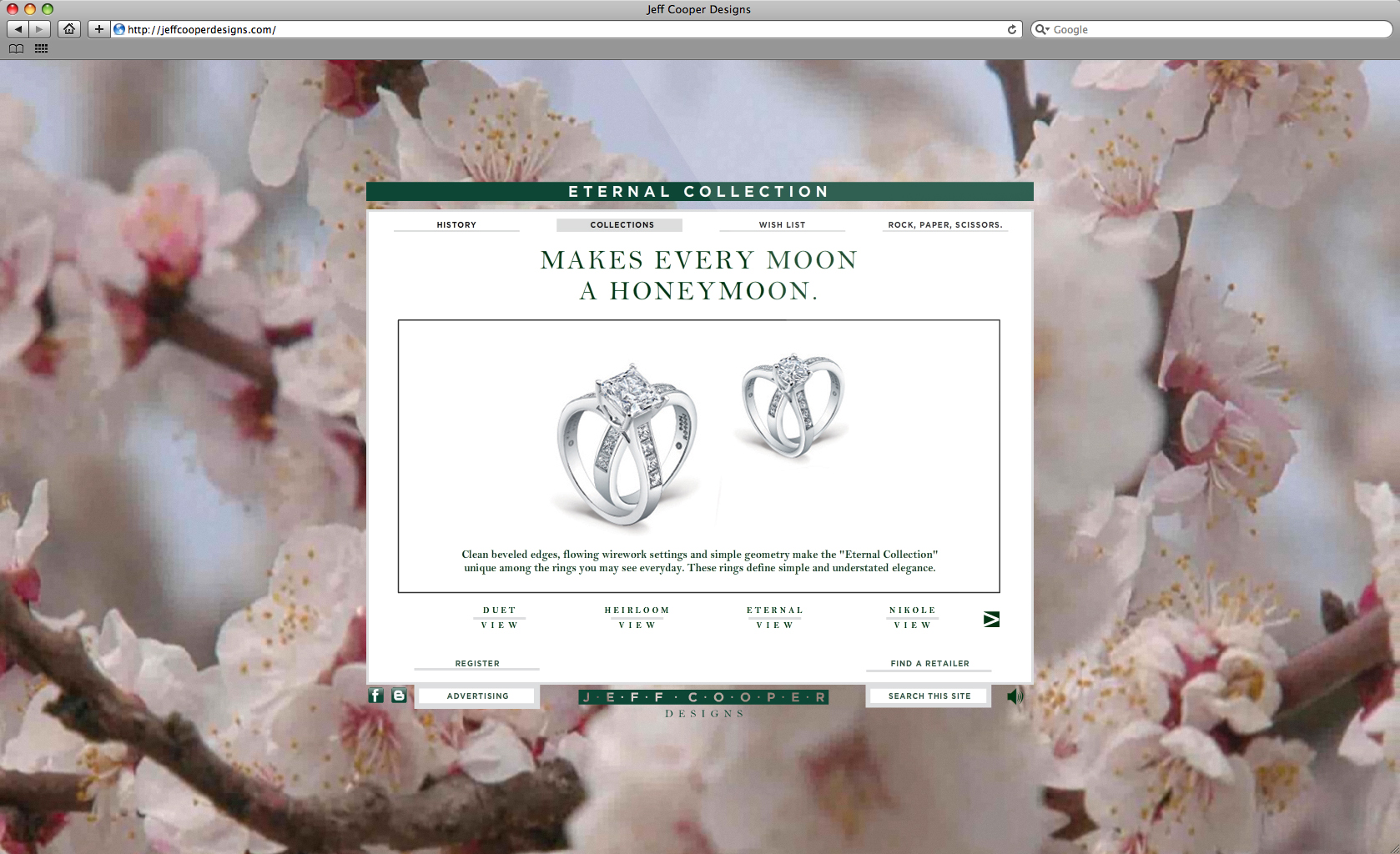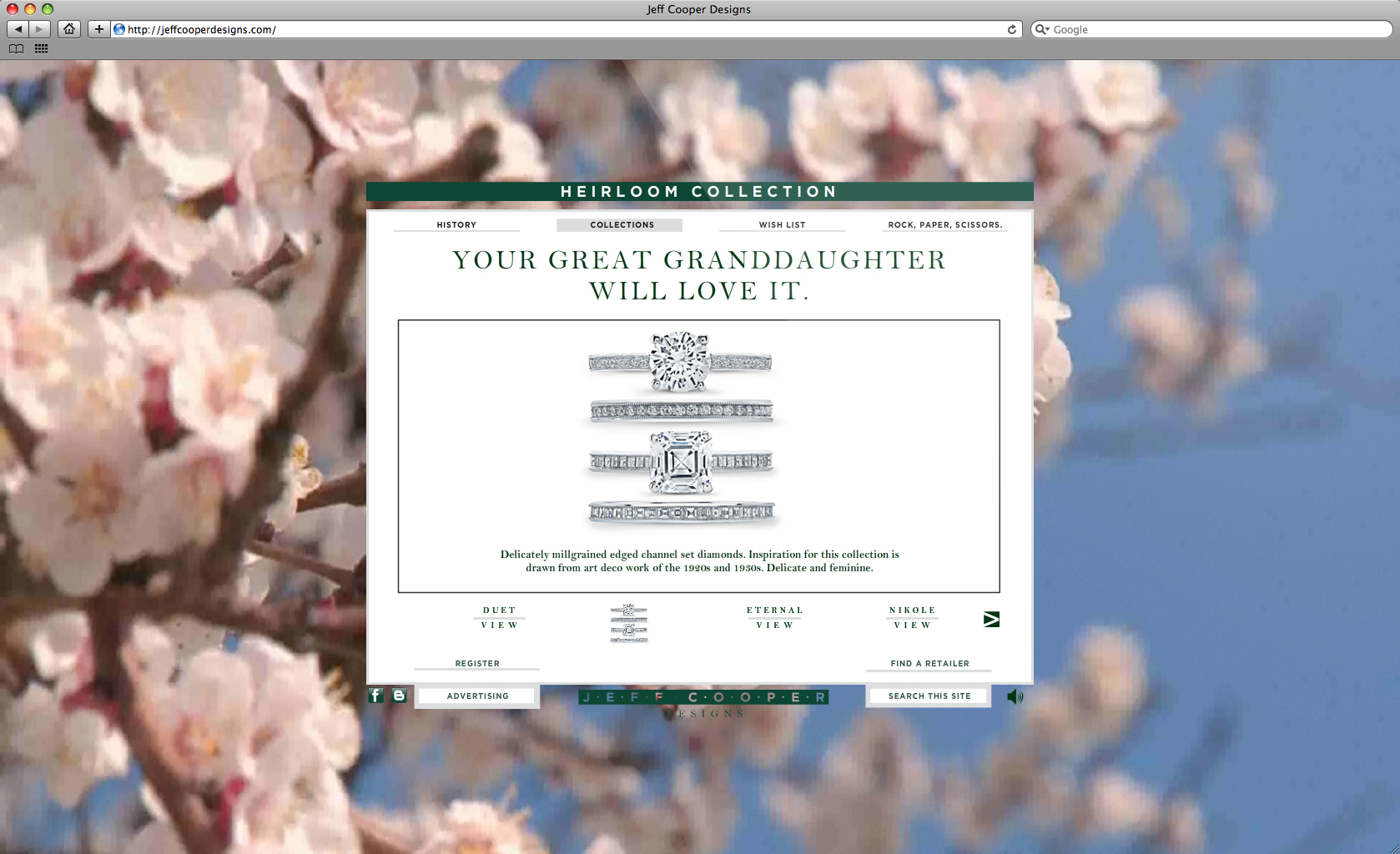 SUPERPRETZEL
SUPERPRETZEL.COM
A renovated website for soft pretzel brand SUPERPRETZEL.